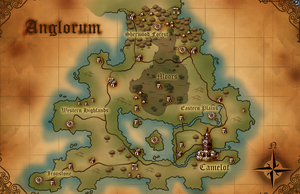 Anglorum is the first mainland area you enter after completing Travel to Anglorum. This is where newer players will get their first encounter with Heroic and Elite mobs. These "mobs" or monsters, have more health than others, and are typically stronger than your normal mobs.

New players will also find their first dungeon quests here. These "dungeons," or "instances," are areas completely cut off from the rest of Anglorum and filled with monsters. A group of 5 players usually go to through the dungeon together. There are "dungeon tokens" that can be collected from the monsters inside of the dungeon which are redeemable for rewards in the chests that are located at the dungeon entrance. 10 tokens are required for any trade to be made.

Camelot can be found here, in the south east corner of the map. This is one of the main cities that players will frequent during their adventures through Earth Eternal.

Main Storyline
Edit

Side Quest Givers
Edit

Main Storyline
Edit
Side Quests
Edit
Bounty Boards
Edit
Important Locations
Edit
Outposts, Villages and Cities
Edit

Other locations of interest
Edit

Ad blocker interference detected!
Wikia is a free-to-use site that makes money from advertising. We have a modified experience for viewers using ad blockers

Wikia is not accessible if you've made further modifications. Remove the custom ad blocker rule(s) and the page will load as expected.